Seasonal bouquet
Sorry, this product is not currently available.
Product Description
Our seasonal bouquet is a beautiful combination of vibrant flowers. The bouquet we send for you might vary a little from that shown. This is because we are between our main flower crops and have very limited amounts of Scilly grown flowers, of course we will include Scilly flowers when we can. The bouquet shown has a selection of long lasting chrysanthemums, complimented by alstroemeria, spray carnations and solidago all backed with wispy eucalyptus foliage.
Please note the flowers in the bouquet shown are not grown on Scilly but we will include Scilly flowers if they are available.
The bouquet is packaged simply in a sturdy box, wrapped in decorative craft paper and smart green tissue to minimise plastic packaging. Flower food, an informative flower care leaflet and of course your personal message on an attractive gift card are all included.
To ensure the best possible vase life, some flowers may arrive less open than shown in the picture.
As with all our flower packs, the price shown includes delivery to mainland UK by Royal Mail 1st class postal service but not any vase, container or decorative accessories in the photos.
Please note that as we like to offer you the best quality flowers available, we do change the content of our bouquets from season to season. Therefore, the bouquet sent may vary in content and colour from the one pictured here. Please contact us if you have a specific request or need more information.
Delivery Information
All our orders are sent by 1st class Royal Mail and the price includes delivery to any UK postcode. We can't guarantee an exact delivery day or time.
This is how it works
We post each day Monday-Thursday and your order will arrive within 1-2 days of your chosen delivery date. Your order may arrive before or after your chosen delivery date. Occasionally due to our remote location the post is delayed, usually due to weather.
All our flowers are guaranteed
If you ever have a problem with our service let us know as soon as possible so we can put things right.
We don't send flowers on ...
...Fridays, weekends and bank holidays because we want your flowers to be as fresh as possible. This is why some days are blanked out on the calendar.
What happens if no one is home
All our boxes are clearly labelled, 'Fresh flowers please leave'. The postman makes the final decision to leave them or not. In the vast majority of cases, flowers are left in a safe place. Don't forget all our flowers are guaranteed.
Deliveries in December
Royal Mail are very busy in the run up to Christmas and delivery can take slightly longer. Any December delivery dates are only approximate guidelines.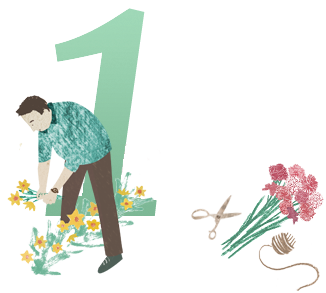 Picked & Packed


on the beautiful Isles of Scilly.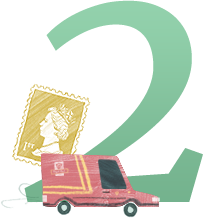 Posted


FREE delivery by
1st class post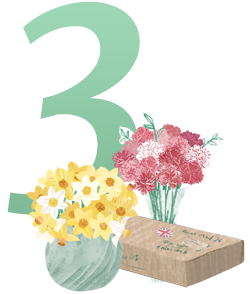 ...Perfect


direct to the doorstep
Product and service reviews
Add a review
We'd love to hear what you think about our flowers. It's often your feedback that helps us improve what we do.
Please remember that all our flowers are guaranteed. If something has gone wrong contact us directly, [email protected] or 01720 422169, so we can try to put things right.
Mrs Claire Stirland, Devizes Wiltshire UK
Product Review | 9th November 2019
Scilly Flowers are NOT silly! I buy vouchers for Christmas presents and bouquets for birthdays... and the occasional treat at home. I have never been disappointed and the staff are empowered to deal with any issue promptly. I don't buy flowers from other retailers, especially if they are cheaper, because I don't know enough about growing or working conditions. Buying from Scilly Flowers is supporting a UK based company and furthermore I been able to visit the fields many of the flowers on offer are grown and even the packing sheds! I have no hesitation in recommending this company.
Our Reply
Wow thanks! I hope we continue to be your flower provider of first resort.
Mrs Maureen Ward, Cambrudgeshire
Product Review | 27th August 2018
I've used scillyflowers a lot and think they're really good value for money. The flowers are always lovely. Once, however, they didn't arrive - you don't always know if they have if they're sent as a surprise, but the problem was rectified very promptly. For this reason alone I'm scoring 4 stars, but the flowers rate 5 stars.