60 Scented narcissi
Delivery by 1st class post
Delivery dates explained
Your flowers will be sent by 1st class post so we can't guarantee the exact day of delivery. You can expect flowers to arrive around the date you select. More details below.
Product Description
A stunning box bursting with island sunshine. With 60 gift wrapped narcissi this is enough to share or fill 2 vases, giving the whole house cheerful colour and heady scent.
Please note the colour of the flowers sent might vary from those pictured here.
The flowers will arrive by 1st class Royal Mail in 6 bunches of 10 flowers, packaged simply in a sturdy box, wrapped in decorative craft paper and smart green tissue. Flower food, an informative flower care leaflet and of course your personal message on an attractive gift card are all included.
To ensure the best possible vase life, some flowers may arrive less open than shown in the picture.
As with all our flower packs, the price shown includes delivery to any UK address by Royal Mail 1st class postal service but not any vase or container shown in the photos.
From October to Easter different varieties of scented narcissi flower at different times so the flowers sent may differ slightly from those shown. Although we try to include a mixture, it might not always be possible to include both white and yellow varieties especially during December. Please call if you have a specific request or need more information.
Delivery Information
All our flowers are sent by 1st class Royal Mail and the price includes delivery to any UK postcode. We can't guarantee an exact delivery day or time.
This is how it works
For example, if you selected a Friday delivery your flowers will leave the Isles of Scilly on Wednesday and should arrive either Thursday, Friday or Saturday. However due to our remote location occasionally the post is delayed, usually due to weather.
Because every rule has an exception...
If you selected a Tuesday delivery your flowers will leave the Isles of Scilly on Monday and should arrive either Tuesday, Wednesday or Thursday.
All our flowers are guaranteed
If you ever have a problem with our service let us know as soon as possible so we can put things right.
We don't send flowers on ...
...weekends and bank holidays because we want your flowers to be as fresh as possible. This is why some days are blanked out on the calendar.
What happens if no one is home
All our boxes are clearly labelled, 'Fresh flowers please leave'. The postman makes the final decision to leave them or not. In the vast majority of cases flowers are left in a safe place. Don't forget all our flowers are guaranteed.
Deliveries in December
Royal Mail are very busy in the run up to Christmas and delivery can take slightly longer. Any December delivery dates are only approximate guidelines.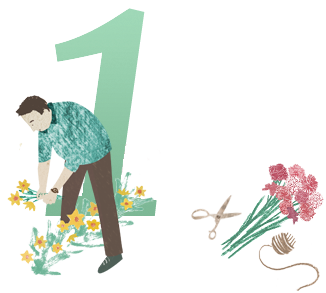 Picked & Packed


on the beautiful Isles of Scilly.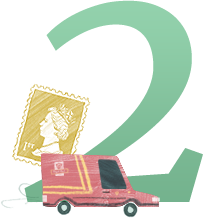 Posted


FREE delivery by
1st class post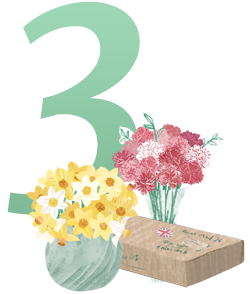 ...Perfect


direct to the doorstep
Product and service reviews
Add a review
We'd love to hear what you think about our flowers. It's often your feedback that helps us improve what we do.
Please remember that all our flowers are guaranteed. If something has gone wrong contact us directly, info@scillyflowers.co.uk or 01720 422169, so we can try to put things right.
Mr Mavhin, Yorkshire
Product Review | 20th December 2020
Unique and wonderful just like the island they come from. I have been sending these flowers to certain special people for many years. Following a lovely holiday on the Isles of Scilly a long time ago, ordering flowers for other people ever since, has been a lovely way of retaining a connection with the islands and supporting its community. I have never actually seen the flowers (!) but I know they are fantastic because I always receive a thank you card telling me the joy and pleasure they brought. Service is 100% reliable.
Mr Sheppard, Southcoast
Product Review | 18th November 2020
2 orders placed but only one arrived on the date required, 2nd order arrived after another 5 days. One phone call and a replacement of fresh blooms was delivered. Can't complain about that. Thank you Scillyflowers.
Our Reply
Thank you so much for your lovely review. The last thing we want is for anyone to miss out on their flowers and we'll always do our best to put things right if we can. We really appreciate you getting in touch and being so understanding.
Mrs Thorne, Hertfordshire
Product Review | 18th November 2020
I have been using your services for a long time now, and always have the same reaction from friends and family when they receive the flowers. How gorgeous they are, and what a wonderful perfume. I was born in Penzance, but have lived away for 60 years, and it gives me such pride to know that the Scillies and Cornwall never let me down. Thank you.
Mrs Blampied, Guernsey
Product Review | 17th March 2020
I send Scilly flowers to family and friends who absolutely love them. I am never disappointed - the quality of the flowers is always first class and the smell of the scented narcissi is divine (I am sent them myself occasionally!). Delivery is always timely also. Thank you so much for this excellent service.
Mrs Jackson, South east
Product Review | 5th February 2020
I have been buying your beautiful narcissi for over 12 years for my friends and family and the pinks in summertime. They have always been so fresh and amazing quality. I am very impressed with the new plastic free packaging. I would like to say a huge thankyou to all of the helpful staff at Scilly Flowers. Best wishes. Sarah